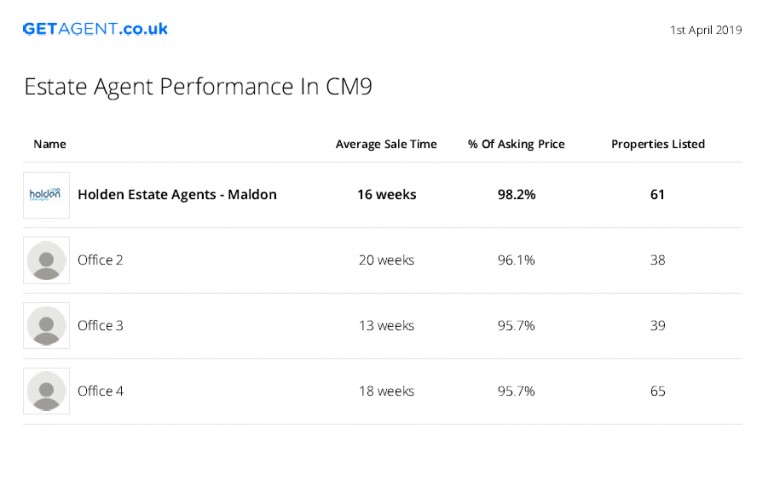 Our latest GETAGENT.co.uk stats
When considering which estate agent to use, we think it is important to look at past performance as well as marketing packages on offer. At Holden Estate Agents we have agreed more sales in the last four years than any other agent in the CM9 area (source rightmove) but we are equally as proud as these latest GETAGENT.co.uk stats.
GETAGENT.co.uk is an independent estate agent comparison site. It studies performances of estate agents throughout the country. In their latest update as the above picture shows, Holden Estate Agents have achieved their sellers 98.2% of their asking price, meaning our clients end up with more money in their bank account on completion if they sell through us.
We believe you pay for what you get, so whilst our fee may be more than some 'low cost' agent options, you will still be better off selling through us on completion based on these figures.
For example
Asking price £450,000
Holden Estate Agents (98.2% of asking price) £441,900
Office 2 (96.1% of asking price) £432,450
Office 3 and Office 4 (95.7% of asking price) £430,650.
So, on average Holden Estate Agents achieve £10,650 MORE than the other agents included on this report!
Please contact us if you are considering selling your property